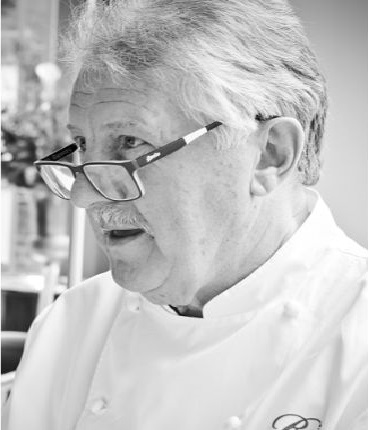 Chef Brain Turner
Chief Judge
THOUGHTS ON YCO
brilliant concept. What a privilege as a judge to the Young Chef Olympiad. Without sustainability in our lives we will have no future. It is the responsibility of each one of us to commit to sustainability wherever and whenever we can
Zero Hunger
Zero hunger for the world has to be priority for all of us. Lets all do as much as we possibly can to see it happens in our lifetime!
17 Sustainable Development Goals
The goals encapsulate what an immense task we have on our hands to bring the world back to the wonderful place it was. These will only be achieved if we all, and I mean all, play our part no matter how small! It is the responsibility of everyone!
Without sustainability in our lives we will have no future. It is the responsibility of each one of us to commit to sustainability wherever and whenever we can.
Biography
Born at Halifax, West Yorkshire, England, College – 1961-1963 Leeds College of Food Technology,
Work : 1963-65 – Simpson's in the Strand, London
1965-68 – Savoy Grill
1969-70 – Beau Rivage Palace, Lausanne, Switzerland
1970-71 – Claridge's, London
1971-86 Capital Hotel/Restaurant, London
1986-2001 – Turner's Restaurant, London
2002 – 2005 Brian Turner's Restaurant, Crowne Plaza Hotel, NEC Birmingham
(Successfully completed a three year contract)
2001–2003- Foxtrot Oscar (director)
2003 – Aug 2008 Brian Turner Mayfair, Millennium Hotel London Mayfair
2005 -Aug 2008 Turner's Grill, Copthorne Hotel Slough Windsor
2006 – June 2008 Turner's Grill, Copthorne Hotel Birmingham
2011- 2017 Turner's Restaurant, Butlins, Bognor Regis
Awards & Accolades 1997 – Caterer & Hotelkeeper 'Catey Chef of the Year'
1997 – Craft Guild of Chefs Special Award
1997 – Wedgwood Award (for outstanding services to hospitality industry)
2001 – Honorary Professor, Thames Valley University
2002 – CBE (for services to tourism and to training in the catering industry)
2003- Nestle Toque d'Or (commitment & dedication to the advancement of
young culinary talent)
2004- Caterer & Hotelkeeper 'Special Award'
2004- Yorkshire Life Food & Drink Awards- Ambassadorial Award (in recognition
for his tireless promotion of Yorkshire)
2004- Springboard Special Award, Awards for Excellence 2004
2005- Fellowship of the City and Guilds of London Institute (FCGI)
2005- Lifetime Achievement Award, Yorkshire Society
2006- Honorary Doctorate, Leeds University (Met)
2006- British Hospitality Award (for services to the training & development of
young people)
2006- Fellowship of the Royal Society for the encouragement of arts
2007- The National Association of Catering Butchers Award for Outstanding
Contribution to the British Food Industry
2008- Honorary Doctorate, Sheffield Hallam University
2009- Honorary Apprenticeship Award, Apprenticeship Ambassadors Network
2010- Les Disciples D'Auguste Escoffier
2016- The Yorkshire Powerhouse Business Award (services to industry)
2017- Honorary Professor, University College Birmingham
Associations : Royal Academy of Culinary Arts – President
Adopt a School
Bocuse d'or UK, President 1990 – 2018, now Honorary Vice President
Springboard (Chairman of Futurechef)
Roux Scholarship Judge & Vice Chairman since 2015
Heptinstall Awards
PM Trust
Hospitality Apprenticeship board member