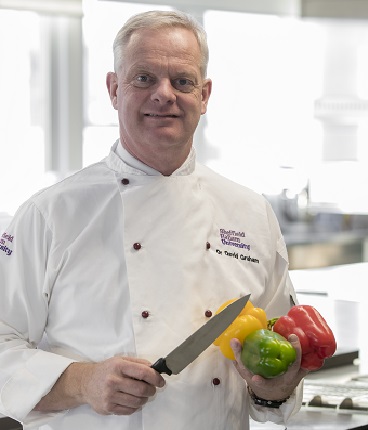 Dr. David Graham
Chef Judge
Career path
Food has always been a passion. Creativity, innovation and linked with an experience in dinning stimulated my desire to open my own restaurant and in later life, moved into hospitality education.
Keith Floyd accessible to the virtues of good wholesome and tasty food and Michel Guerard for the professionalism and moving culinary styles forward.
Achievements
Opening my own French bistro restaurant and achieving my PhD
Feel about the YCO
A real opportunity for the world to come together with a common goal for the love of food. Chefs from around the world to appreciate different cultures, cuisines and styles of cooking. To feel part of the global village, sharing stories and making friends for life.
Feel about coming as a judge to the YCO
Excitement
Sustainability
We need structures and frameworks to act as a catalyst to enable sustainability of our world. The 17 SDG`s are ambitious, the philosophy of inclusiveness being at the heart of the agenda is one that enables all nationalities and cultures to engage in.
The Young Chef Olympiad 2020 has a theme of Sustainability, supporting the UN Goals.Perfect it encapsulates the agenda of social responsibility which chefs need practice in the daily work.
Its all around them. From product purchasing, processing, outputs and handling of waste.
Waste reduction. Food not being thrown away but donated to charity.
Zero Hunger
IIHM is actively supporting the UN Sustainable Development Goal of 'Zero Hunger'-nobody should have an empty stomach
Dr David Graham
Head of Dept Hospitality Management
Sheffield Hallam University