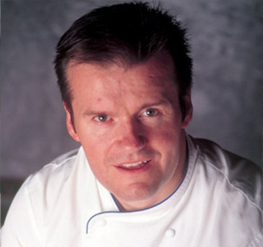 John Wood
Director of Kitchencut
YCO IS AN INCREDIBLE PLATFORM
My first year at YCO was 2018. I am a huge advocate of train-ing and developing the chefs of tomorrow and coaching them to maintain and improve the skills levels in the hospitality industry. YCO is an incredible platform that allows the young chefs of the world to come together and gain experience and learn from this whole competition. Yes, as with any competition, there are win-ners and people who do not win a prize, however by entering and taking part in such a competition, everyone benefits.
EDUCATING CHEFS OF TOMORROW
Having been in the industry for 37 years as a chef at some of the most prestigious establishments in the world, I believe it is my role to be part of the education of the chefs of tomorrow. YCO is the perfect global platform that supports this and I will support them in any way that I can.
BIGGEST LEARNING
I learnt what an incredible industry we have the pleasure of work-ing in where you can bring nearly 50 countries together and there is such a close bond of communication and friendship through a common connection of the love of food. For the students, to be part of a global stage and represent their country is a huge honour and learning from the judges and fellow competitors was huge for them.
PASSION & DESIRE
All I look for in a chef is passion and desire. It does not matter what your background or education is… if you have those two ap-proaches to what you do, you will do well. Cooking puts everyone on a level-playing field. We all have the same products, it is what we do with them and what our approach is to these products that makes us unique.
PRACTICE MAKES PERFECT
Three words for when you're preparing for this competition: practice, practice and practice till you can do it in your sleep. Practice what you're doing, learn and practice time after time till it becomes natural to you.