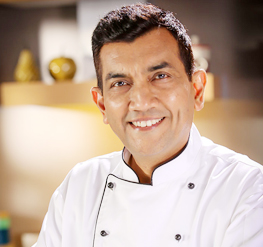 SANJEEV KAPOOR
Principal Jdge
When Sanjeev Kapoor takes the stage, everyone listens. One of the most celebrated faces of the Indian culinary world is the principal judge and mentor of Young Chef Olympiad. Here are some of SK's famous lines during his association with YCO.
Indian celebrity chef, entrepreneur, writer and TV personality
Launched Food Food channel in 2011
Khana Khazana is the most successful Indian food TV show and the longest running from 1993-2012
Twitter followers: 2.24 million
Received the Padma Shri, the fourth highest civilian award in India, from President Pranab Mukherjee.
The level of competition in 2018 was at least twice as good as compared to the previous year. According to me, that is the biggest achievement by YCO
I have not seen this kind of energy in a long time!
To all the countries and all our honoured guests, on behalf of India and the YCO and the Young Chef Olympiad Global Council, I say, 'Atithi Devo Bhava', welcome and may the best Young Chef win!
When we were studying, a platform like YCO didn't exist. I am happy that students today have that opportunity to experience something like YCO
Over the last four years (2015-2018), YCO has seen a quantum leap in terms of the standards, organisation and detailing. I'm glad an initiative like this has been taken by IIHM and Dr Suborno Bose
Dear young chefs, we want you to excel. We want you to shine. No matter where you work in your life, these precious weeks in the competition are going to be defining moments for your career
They (YCO participants) will now have their own fans and I wish all of them a great year
As an Indian, I am particularly proud that on our 67th Republic Day, India will be hosting the Young Chef Olympiad, the world's biggest ever culinary competition of young student chefs from all across the globe supported by Incredible India, Ministry of Tourism
We have to take the culinary interest of students to another scale and YCO is doing just that. I'm happy to be principal judge
I always say that if a business survives the first 1,000 days, it means it's a serious business. So now in its fourth year, YCO is serious business
We will continue to welcome international students to our country. Our fraternity of chefs from India will always be with you for anything you want to know about India or Indian food
A good chef has to be creative. Creative people have to lead all the time because when you create it means you're not following a road
I hope we will soon have 100 countries participating in Young Chef Olympiad